Aaksharaa Simirun Ghoorahoo
Aaksharaa Simirun Ghoorahoo has always been good with numbers so choosing accountancy as a career wasn't a hard decision. Choosing where to study required a bit more thought. After careful consideration, she decided on Ara Institute of Canterbury – a long way from her home in Mauritius.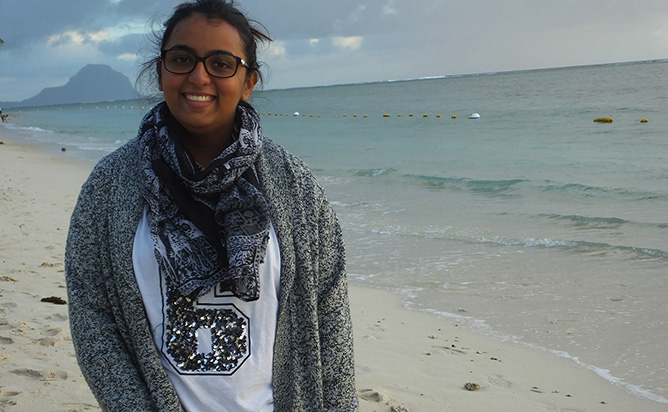 "I chose Ara because of its good reputation," she says, "and also because the Bachelor of Applied Management includes a work placement programme to prepare you for employment."
Aaksharaa has settled in well at Ara. She's enjoying campus life – "I've only been here for three months and already there have been many events and activities" – and is making the most of the services available to her as a student.
"The support provided here is very good. Student advisors can give you any help or advice you might need, the library staff are very helpful and there's a learning service centre where you can get advice on your assignments. There are also peer assistance study groups which are great if you're struggling with a course or you just need tips on how to study the smart way."
Aaksharaa enjoys the teaching style at Ara and is impressed by the tutors. "They're very professional, friendly and supportive. And they're available anytime, even after hours, if you need help."
Even though Aaksharaa is still in the first year of her Bachelor of Applied Management, she's confident that the programme is preparing her well for the realities of the workplace. When she graduates, she wants to use her skills and knowledge to help companies develop and grow.
"I personally feel that an accountant can perform any job in the competitive management world, but it's hard for other professionals to perform accounting. That's why I chose accounting as my career."