Tony Siva is a proud Samoan and even prouder since he returned to study and got himself an apprenticeship to become a builder.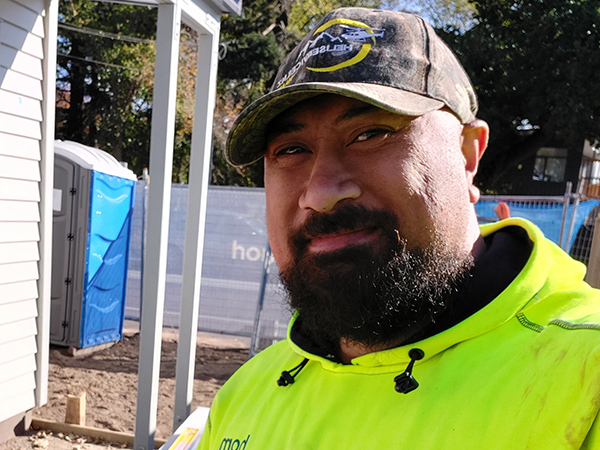 "My plan for the future is to buy or build my own house and hopefully go back to Samoa to rebuild my village," he says.
Prior to studying at Ara, Tony worked as a sales assistant for Fonterra. He says he decided to become a qualified builder because he wanted to build a better future for his family.
Tony completed the New Zealand Certificate in Construction Trade Skills at Ara, which was free through Ara's Pacific Trades Training scheme. During his studies, Tony was encouraged to explore his culture.
"We were given our own tools for the course, and we learned how to interpret our culture through woodwork," he says. "So as well as learning how to build a house and things like retaining walls, decks and fences, I also made a To'oto'o (Samoan chief's staff)."
Ara's Pacific Trades Training scheme provides extensive pastoral support to students. "It helps you get to your end goal," Tony says. "There's lots of care and support provided - like bus money, petrol vouchers, food vouchers, counsellors and advisors. The Pacific Island Students Association offers a lot too, and Ara puts on lots of social and sports events throughout the semester."
Tony says returning to study as an adult was a little daunting, especially as this was his first experience of tertiary-level study. "At first I thought it would be a bit awkward because of my age, being surrounded by kids who just finished school. But my tutors were great – they made learning relevant and fun – and I was encouraged to persevere and complete the course."
Tony is undertaking his apprenticeship with Home NZ Construction. He's applying the skills he learned at Ara and picking up many more on the job, while earning a good wage. He's quick to encourage other adults to consider learning a trade.
"It's never too late to study or change your career path. If you work hard and put the time and effort into a trade, I guarantee you'll reap the benefits."