Teaching excellence, teamwork and service celebrated at Ara-Te Pūkenga
People and projects across campuses recognised for outstanding mahi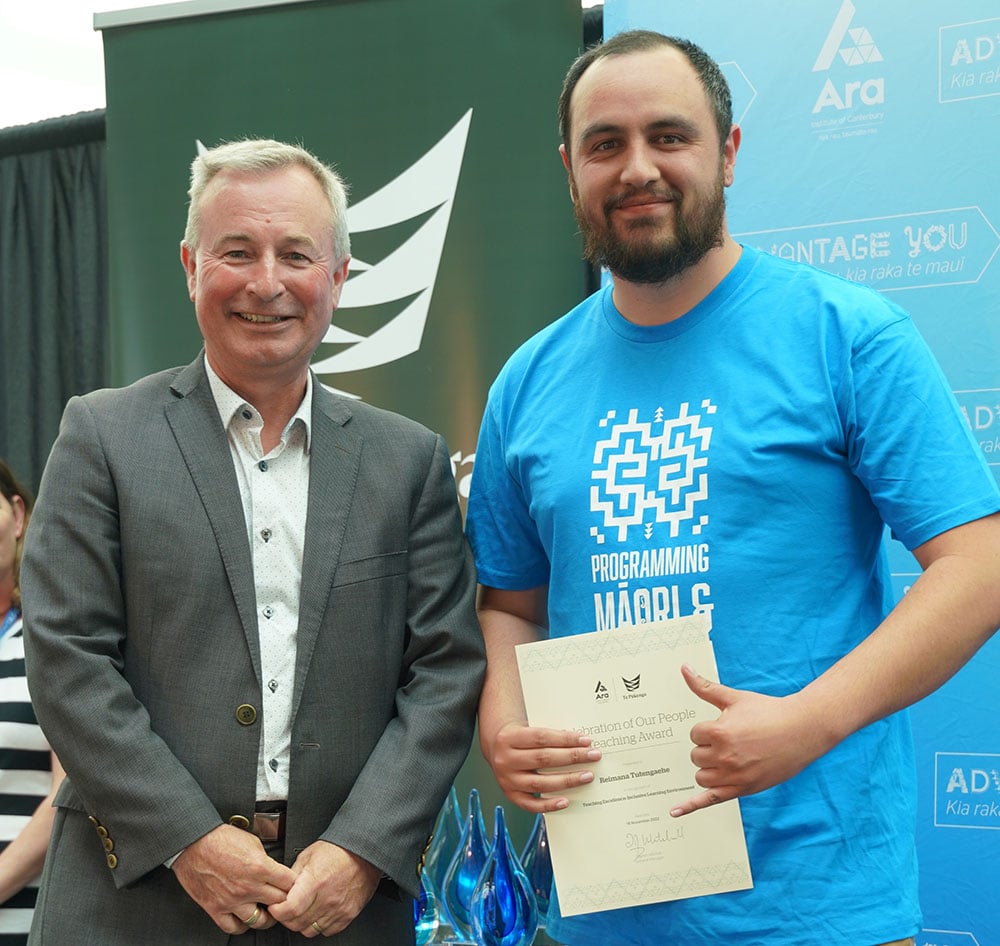 Reimana Tutengaehe receives his Teaching Excellence award from Ara General Manager Darren Mitchell
Gathering from across campuses in person and on livestream, the Ara community has celebrated longstanding commitment and stand-out teaching with forty awards handed out at its annual Celebration of Our People.
The awards recognised kaimahi across all departments from those new to teaching, to individuals and teams going the extra mile in many areas of campus life and those demonstrating excellent connection to industry.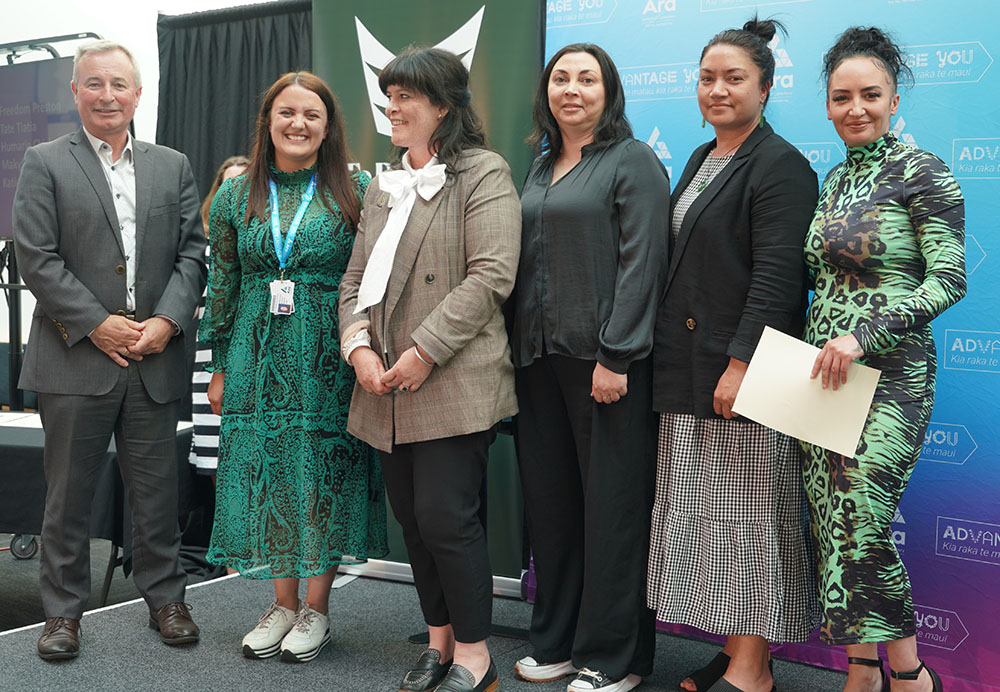 Wāhine Tū Kaha won the Māori Achievement (team) Award
It was also a chance to recognise outstanding service to the institute for staff in both Christchurch with 14 individuals celebrated for their 25 to 45 years of commitment to Ara.
Many found it humbling to be in the spotlight.
Receiving recognition for her incredible 45 years' service and the Leading Together Award for "personifying Ara values of hono, hihiri, and aroha," Manager of Central Administration and Registry Laurie Millar was touched by the accolade.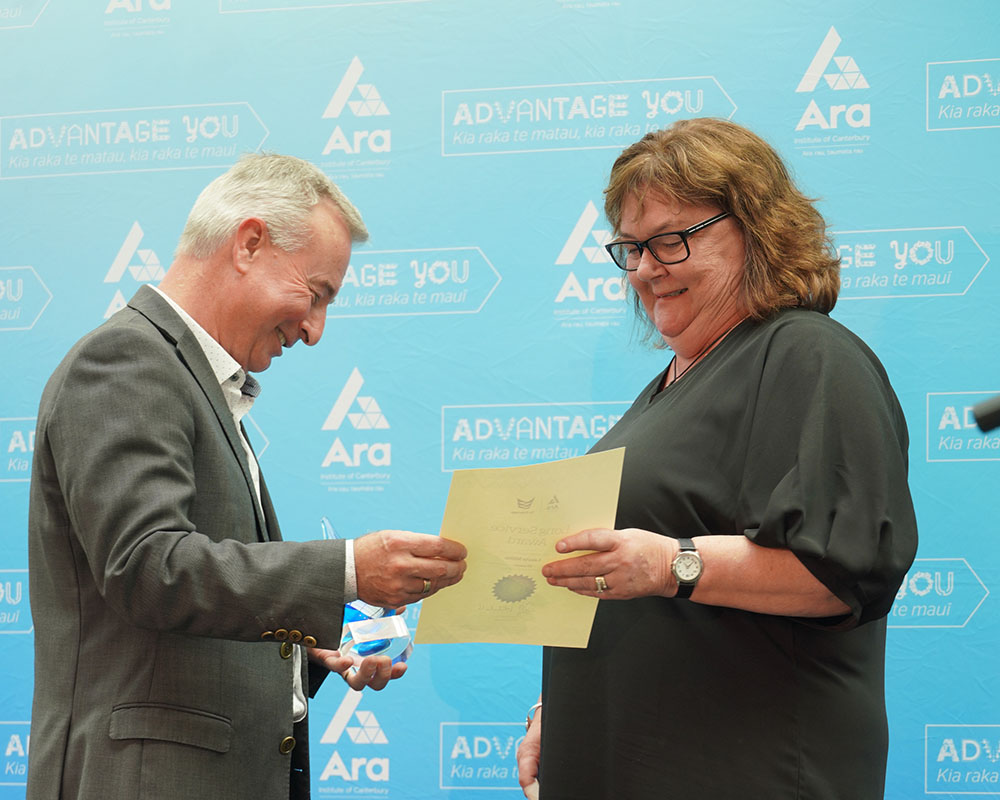 Laurie Millar was recognised with two awards at the Celebration of Our People.
"Honestly all I can say really is it's just very humbling to be here," Millar said afterwards while being swamped by well-wishers.
Reimana Tutengaehe, Tutor - Te Reo Māori, was among the excellence award winners for his "quality, inclusive and inspiring teaching." After the ceremony, he was quick to pay tribute to others.
"I do see a lot of tutors and others in our organisation who are amazing at what they do so it is very humbling to receive this reward," he said.
Tutengaehe's connection to Ara runs deep as his grandfather Hohua Tutengaehe was hugely influential in forming the Māori Department as well as forming qualification content and cultural safety practices at the institution and beyond. He was also the first of many honorary kaumatua that Ara, at the time CPIT, ever appointed.
Glancing up at his picture on the wall of the Te Puna Wānaka whare, he said he's inspired by the legacy of his ancestor's work.
"In our whānau whakapapa is the cornerstone of many things that we do."
"I don't mean that in the sense of genealogy, but I mean it in the sense of interconnection. We acknowledge all those connections as we strive to maintain and build them. Coming here to be a tutor is my part to play in maintaining connection," he said.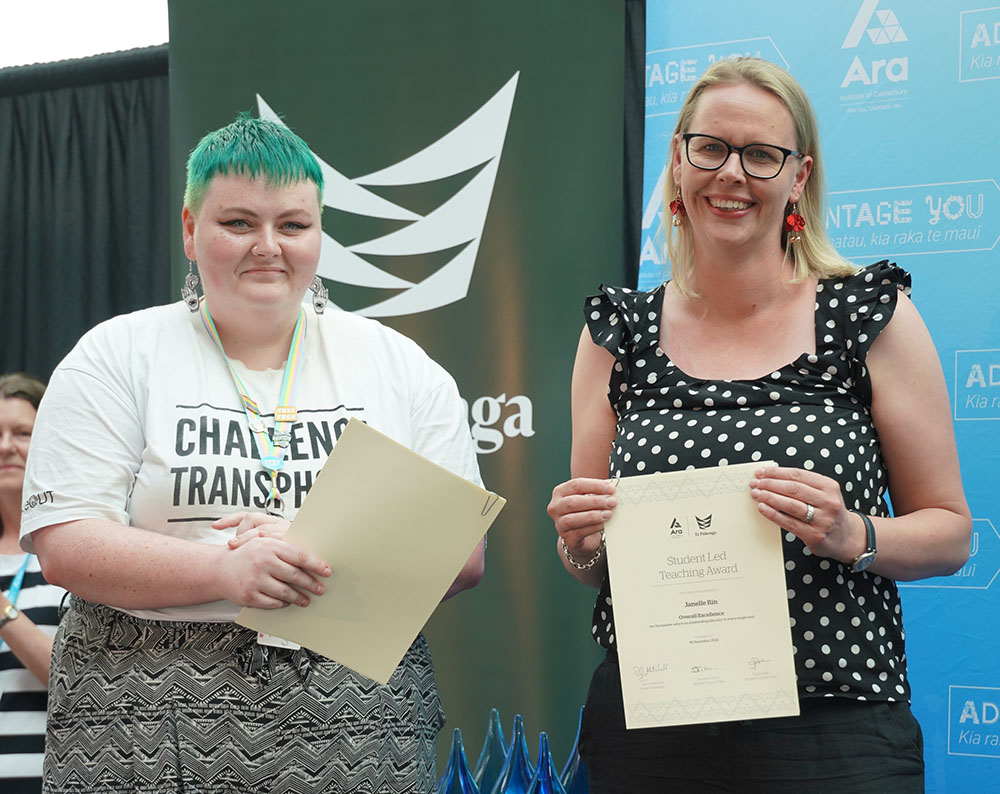 Student Voice Advisor Ari Dewar (left) awards Janelle Rin Overall Excellence. Co-recipient Tess Kerr was unable to attend.
Student-led awards recognised excellence in a range of categories including teachers offering the best tech, wellbeing, and cultural support as well as best industry affiliations.
The shared winner of the student-led overall winner was the multi-nominated part-time tutor in the Department of Health Practice, Janelle Rin, celebrated for being approachable, putting her student's interests to the fore and going "above and beyond" with extra sessions and feedback.
Rin said it was humbling to be recognised by a group of students going through challenging things in their lives but still really committed to persevering through their nursing study.
"It was a real honour for me to teach them, and to sort of go along with their nursing journey and their journey in their study. It was really rewarding – just so fulfilling to see them get to the end of this semester and achieve their goals," she said.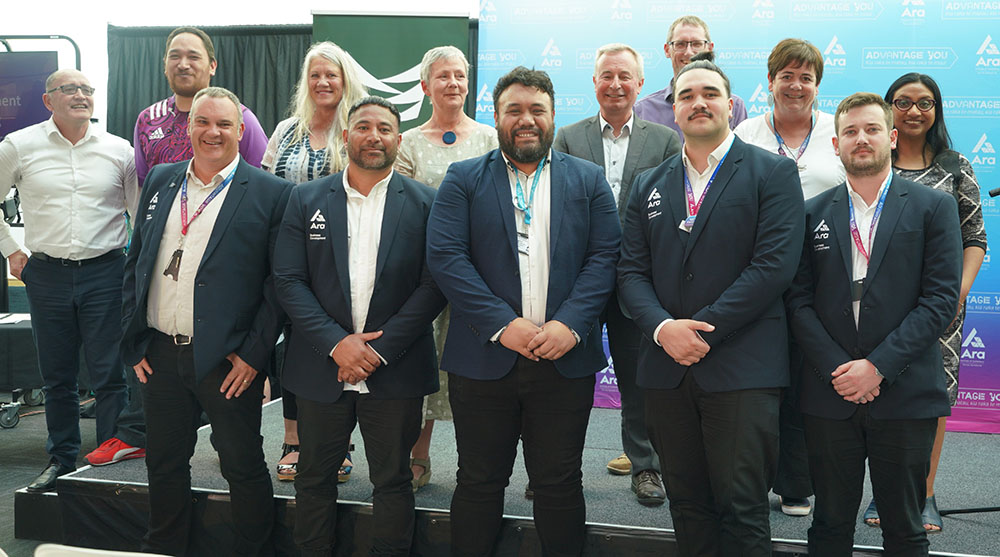 Business Development Team and Collab Partners: Industry Connection Award