Success at Ara-Te Pūkenga Trades Expo
The latest Trades Expo at Ara Institute of Canterbury-Te Pūkenga's Woolston campus has created a buzz with key industry partners, tutors and students bustling together.
Aiming to connect employers with students, the expo involved 25 exhibitors from the NZ Army and Kiwi Rail to businesses such as Switched On Building Solutions and local company Helix. Many of whom were encouraged to attend by Ara-Te Pūkenga's Ngāi Tahu Iwi partner Hemi Inia.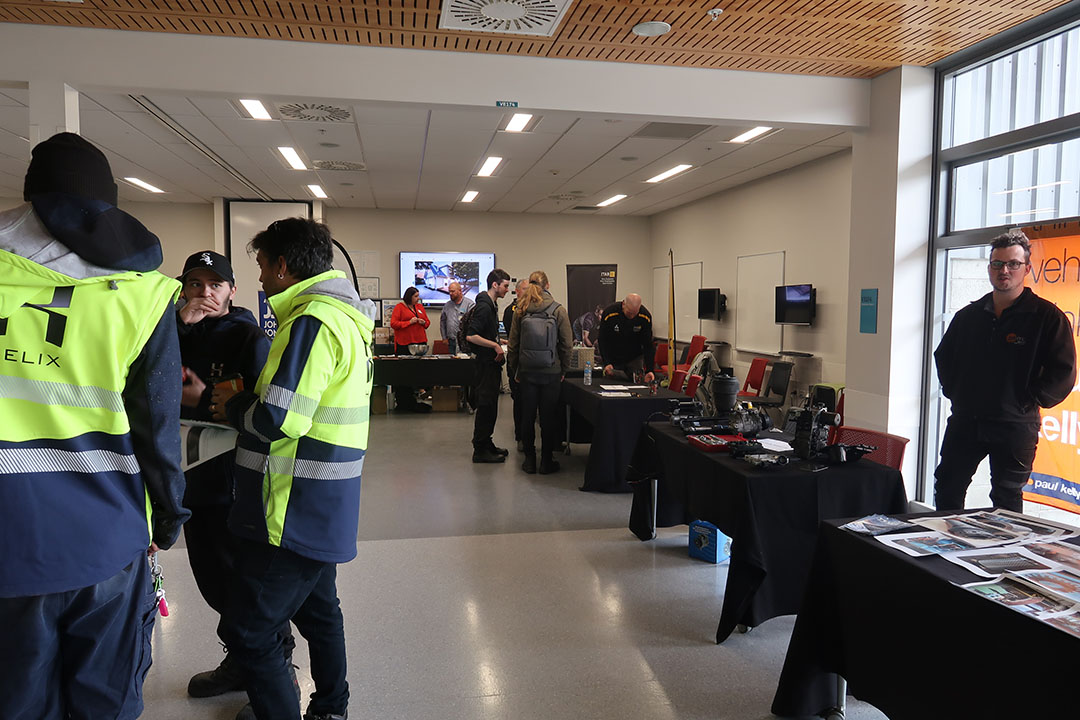 A few of the exhibitors at the Trades Expo
Tony Greenwood, Co-ordinator of Employment Apprenticeships and Student Transition, encouraged the 300 students who attended to interact with the different organisations and to learn about what they specialise in.
"It's also really great for students to simply engage with the industry, with employers in a setting less threatening than a job interview. It helps them practice these conversations," he says.
Many of the industry partners there were seeking to encourage young recruits and more diversity in their workplaces. Some represented in this group were specifically interested in the Māori and Pacific learners with a view to taking them on as apprentices to add to their growing cultural diversity in their place of work.
Nicola Shipton, Recruitment Lead from Kiwi Rail, says "We want to show students that there are a range of opportunities at Kiwi Rail across all areas with lots of room for development. You can work your way up from entry level to team leader".
Tori Marsden, a carpentry student found the expo useful for gathering ideas. Although she already has a job lined up in commercial building, she was hoping to change into residential building with a view to one day, having her own business.
"I don't know what to expect because I haven't seen another female the whole time I've been on work experience. I'm not sure about being a business leader but I'm thinking about it," she says.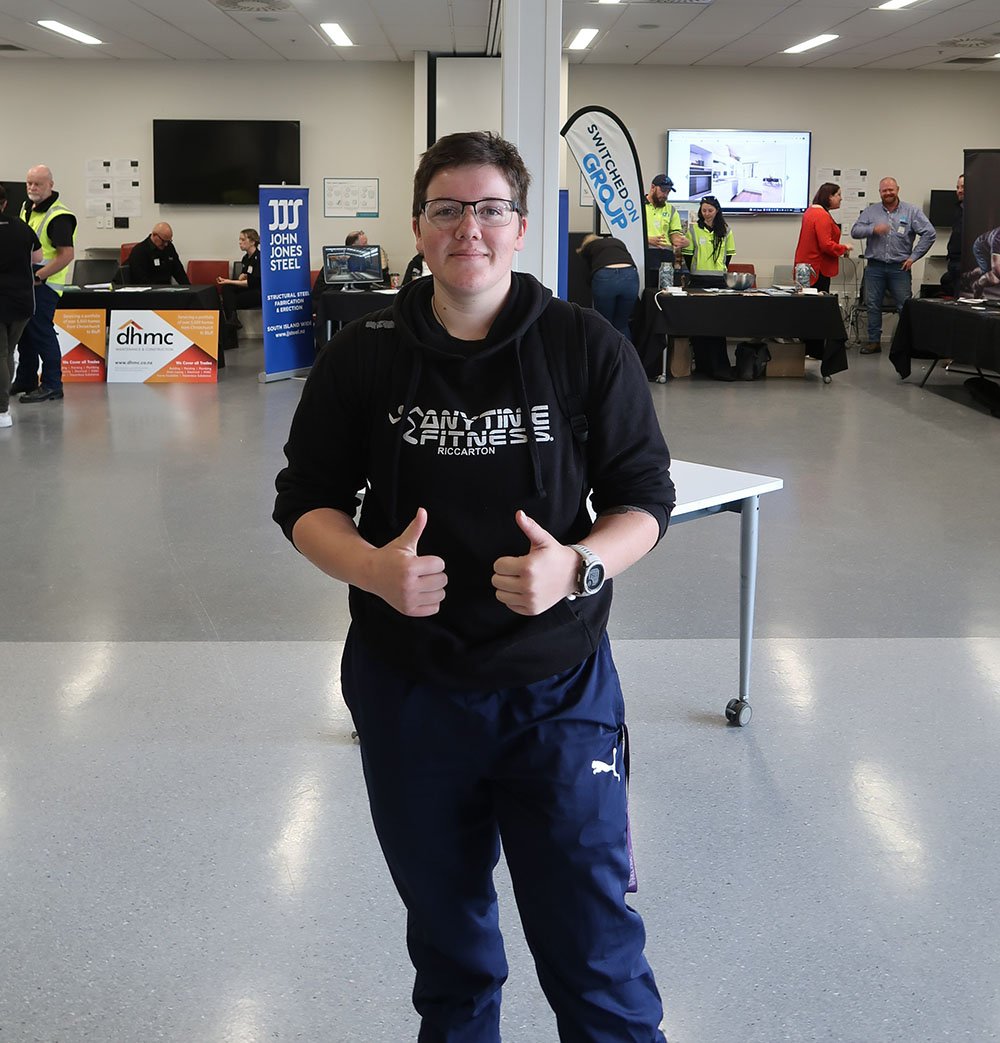 Tori Marsden, a carpentry student
Greenwood says it's tough capping the expo with just 25 employers as more would be keen to come.
"We go for quality participants that we have engaged with positively in the past rather than bringing in more we don't know," Greenwood says.
He explained that the expo tends to get in employers who they have known and trusted before so they know students are engaging into organisations that will look after them.
Reegan Lawton, the CEO of Helix - a construction and design business, has employed a few pre-trade students from Ara as apprentices. He asked them to return to campus to display at the expo a tiny steel-frame home they had constructed overnight.
"Our focus is really on helping young people…we want our apprentices to visualise what their future could look like," says Lawton.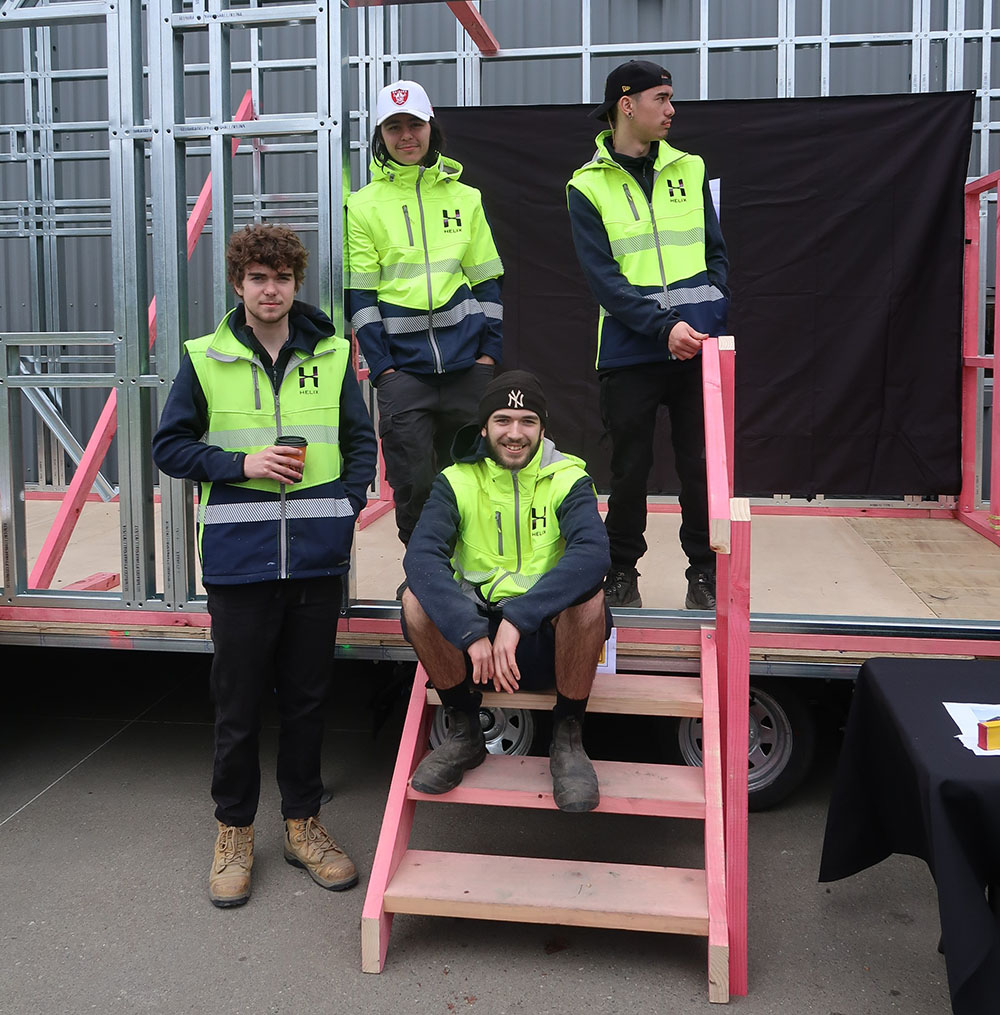 The pre-trade apprentices in front of their tiny steel-frame home
After the Trades Expo ended, Greenwood says he was contacted by several companies who confirmed that they had met and found students they felt confident they could offer job roles to. He was happy the day had achieved its purpose of connecting students with industry with the ultimate aim of placing them into employment and apprenticeships.