Female carpentry graduand breaking down gender barriers
Being the first person to break new ground is always a challenge, especially when you're out of your element and living 3,263km away from home.
Ma'aola Fiupepe, who comes from Samoa, is being celebrated as the first female carpenter to complete a qualification in New Zealand through the Pacific Trades Partnership (PTP), facilitated by the Ministry of Business Innovation and Employment (MBIE).
Fiupepe arrived in Christchurch last year to work towards a Certificate in Carpentry through the Centre of Assessment of Prior Learning (CAPL), at Ara Institute of Canterbury.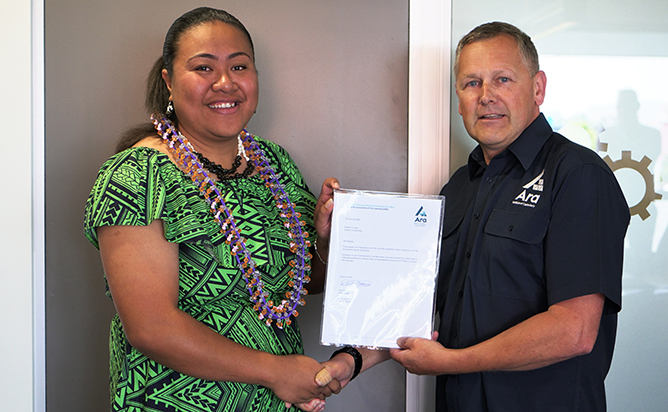 Ma'aola Fiupepe with her Ara tutor Mick Cooke
Owing to her prior work experience and Certificate III in Carpentry from the Australia Pacific Technical College in Samoa, Fiupepe was eligible for the CAPL process, which meant she could pursue a certificate through Ara, while working in the industry.
Last week a celebration event was held at Tradestaff in Christchurch to recognise Fiupepe's achievement and another success for the PTP. Staff from Ara, Tradestaff, MBIE and the Samoan Trade Commissioner, Hon Magele Mauiliu Magele, were among those in attendance.
Fiupepe addressed attendees by saying, "I would like to say thank you to everyone for coming today to celebrate this special day for me. Words are not enough to say how much I appreciate it."
Her Ara tutor, Mick Cooke, is very pleased with her achievement. "I have assessed Ma'aola over the past year and she's done an absolutely marvellous job. She's worked very hard and her reports from employers have been great."
Diana Loughan, MBIE Programme Manager for the PTP, said "I was in Samoa when we recruited Ma'aola and I remember I was so thrilled because for us it's about seeing every worker as a new opportunity for these countries, and unfortunately that's an opportunity that often has barriers for women."
Over the last year Fiupepe's employer, Tradestaff, has financially supported her through the 'Sally Macfarlane Legacy Scholarship for Pacific Women in Trades' and provided additional support for equipment, tools and pastoral care. A 'Lifelong Learning Scholarship' from Ara also ensured she was able to complete the training and the required CAPL assessment.
Fiupepe's contract with Tradestaff has now been extended so she can continue to work in New Zealand and gain further experience.
Andy McCormick, National Key Account Manager for Tradestaff said, "Ma'aola you should be very proud of this. Our hope is that news of your achievement will travel far and wide and inspire other women, especially Pacific Island women to consider a career in construction. We hope one day you will return home as well to share your skills and experience within your own community."
Fiupepe will be eligible to graduate from Ara at its March 2020 graduation ceremony.
In 2018, following a successful pilot programme, Ara was contracted by MBIE to oversee skills assessments of tradespeople in the Pacific Islands so that workers could be recruited to come to Christchurch.