Daily news delivered on deadline
NZBS ākonga produce polished METRONEWS season as they prepare to be industry ready.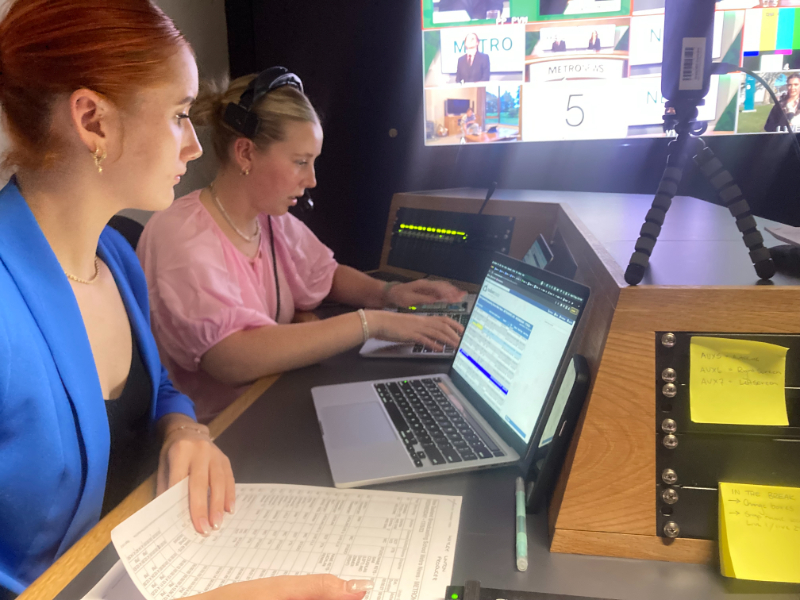 Hayley Linton (left) and Charlotte Mulder put the polish on final rehearsals
Leaving school, Ara | Te Pūkenga ākonga Charlotte Mulder and Hayley Linton never imagined they'd soon be co-producing a TV news show.
But the pair have done exactly that – delivering every deadline-driven minute of the 2023 METRONEWS season which was recorded daily in real time and dropped nightly online.
The show is a pivotal learning tool for second-year New Zealand Broadcasting School (NZBS) journalism and television production ākonga, honing their skills and providing the sort of experience that lands graduates roles in frontline media.
The bright lights of the control room were a long way from small-town Maungaturoto for Linton who started in the television production stream with the NZBS before her 'eyes were opened' to journalism.
"I'm lucky because I can see it from all sides but as producer, you need to have an overall eye and level head." she said. "It's as real as it can be because it's timed to the dot, and you need to quickly find a backup if things go wrong!"
Mulder, originally from Ashburton, described applying for the role as a 'leap of faith'.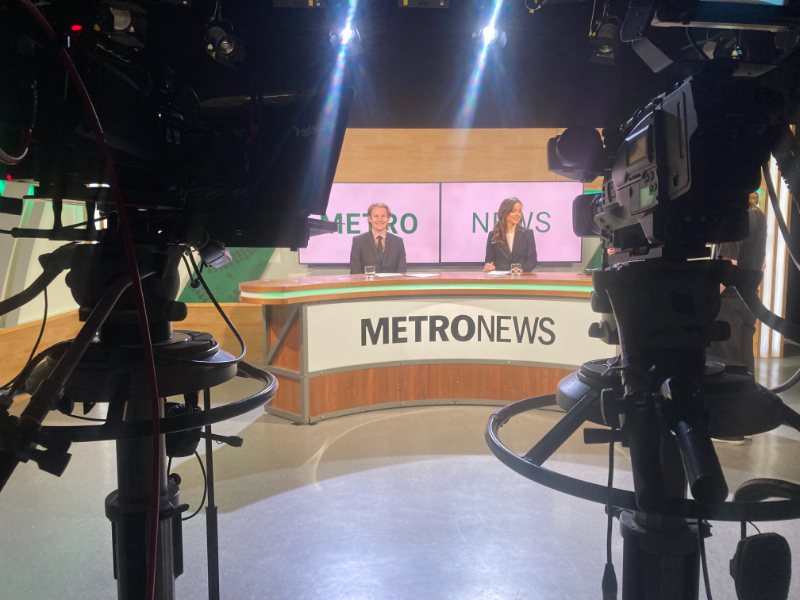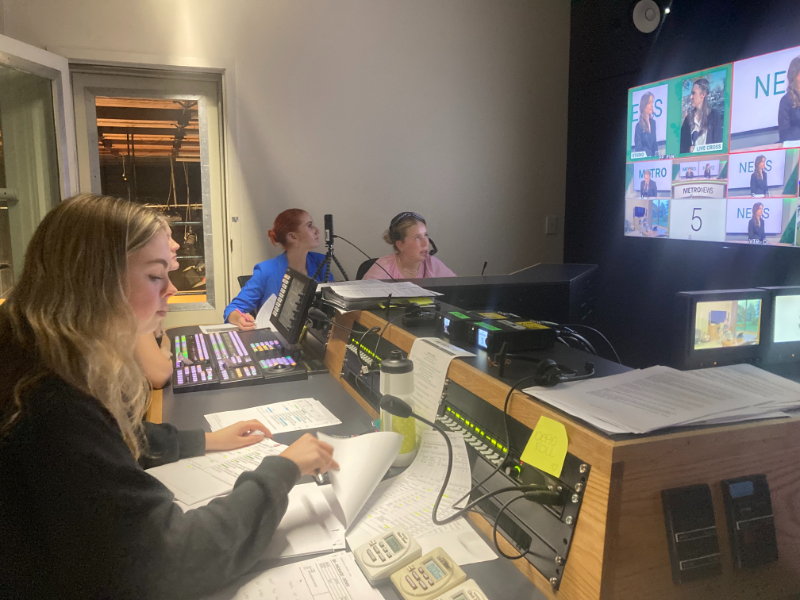 "I did some work experience at TVNZ in Auckland and the producer of 1News inspired me to give it a crack," she said. "It's definitely been challenging but being organised is something I thrive on, so I've actually been loving it."
The show is made up of edited items and live crosses into two studio-based anchors. It provides ākonga the chance to be immersed in their chosen specialisation and work in a functioning team.
The television production ākonga use state of the art equipment applicable to industry to hone their camera, sound, editing and studio skills along with all the key roles needed to run a control room. The journalism ākonga tackle the realities of newsgathering and writing, and meeting production deadlines while achieving valuable presenting and live-cross experience.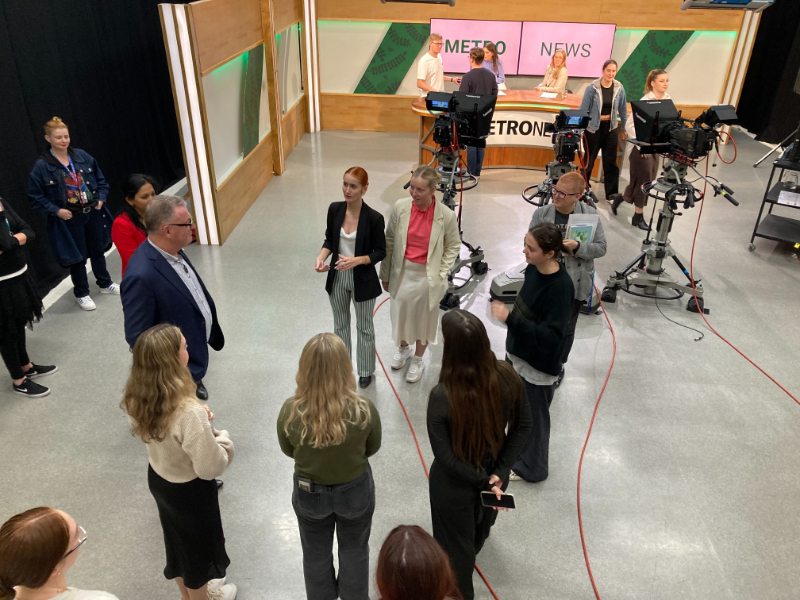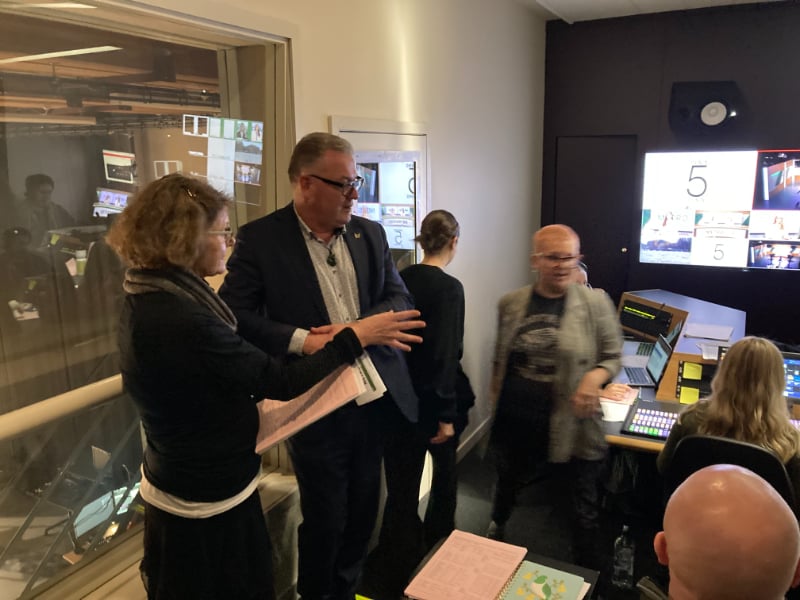 Te Pūkenga Tumuaki | Chief Executive Peter Winder is briefed by ākonga and kaiako Vicki Wilkinson-Baker
Second-year journalism kaiako Vicki Wilkinson-Baker said expectations replicate industry settings.
"They have to research and set up stories as they would in a newsroom - delivering them on time and up to broadcast standard," she said. "The live crosses are a key element because as soon as they're in the workplace, they're expected to be able to do them."
That's been evident this year with recent NZBS graduates reporting live on breaking news stories such as weather disasters and the recent Wellington apartment block fire.
The step into industry comes in the third year of the Bachelor of Broadcasting Communications degree with a 24-week placement learning in, and contributing to, a professional environment.
Wilkinson-Baker said it was rewarding to 'scaffold the learning' to ensure ākonga are prepared.
"We work in a real environment. It's quite labour intensive in terms of tutors because the content can be accessed publicly and therefore needs to be industry level."
Te Pūkenga Tumuaki | Chief Executive Peter Winder, who happened to be in the wings for a recording this season, commented on the infectious passion of the production team.
"Clearly the whole cohort were excited to be engaged in learning the skills our professional broadcasters use every day," he said.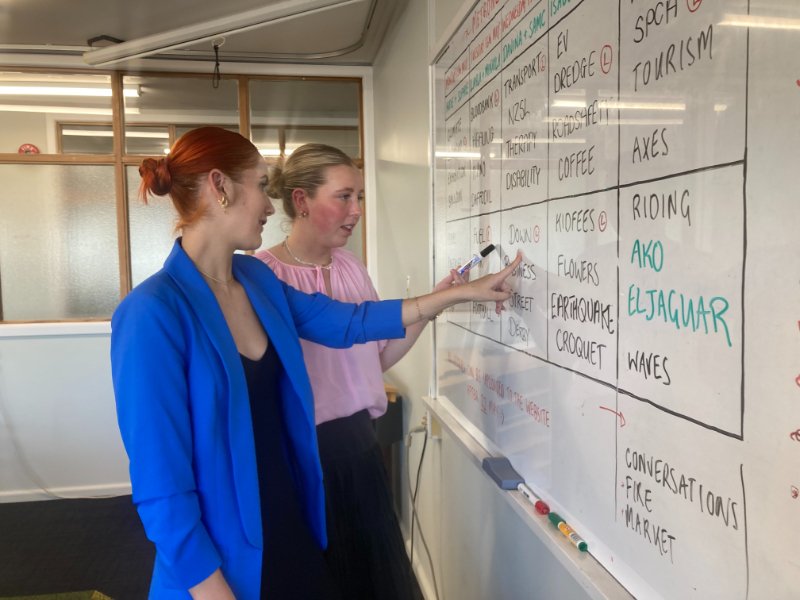 They may have had nerves at first, but Mulder and Linton are champions of the producer role, and the degree as a whole.
"Not only are you getting this incredible hands-on qualification, but you make friends too because you work so closely together," Mulder said.
"I'd say 100 percent do it and don't limit yourself," Linton added. "So much can come from Broadcasting School. So many doors will open."
View the latest from the NZBS here: METRONEWS