Ara | Te Pūkenga Cookery student to compete again at Virtus Global Games
Study on pause as Luka Willems continues to blaze a trail for athletes with Down Syndrome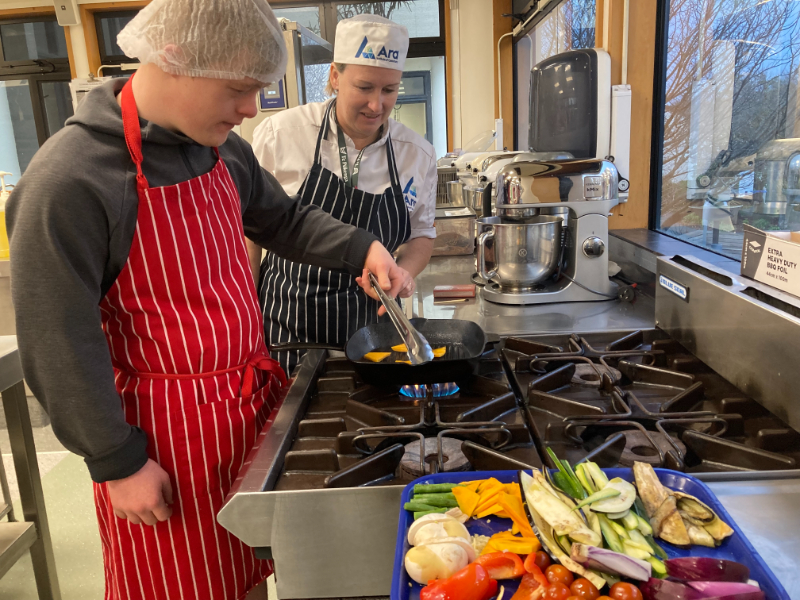 Cookery Tutor Adele Hingston stops to check what Luka has on the go
He cooks. He vlogs. He swims for New Zealand. On top of all that Luka Willems is a "role model student" in his Ara |Te Pūkenga Level 2 NZ Certificate in Hospitality class.
"I love cooking – I think I got it from my grandma," Willems said, adding quietly that he gets emotional thinking about her loss. "She used to bake amazing cakes, Dutch stuff, lolly cake or anything really! I remember her when I do cooking and baking."
His study is extending his skill set, which he applies to his part-time job at a local hotel and the regular foodie vlogs on his popular YouTube channel. Luka Willems - YouTube
At his twice-weekly Dual Enrolment class, his Ara tutors Adrian Hilhorst (Barista, Front of House) and Adele Hingston (Cookery) say that his work ethic and engagement is an example for his high school peers. They're also ready to help adapt recipes to be gluten-free for his coeliac diet.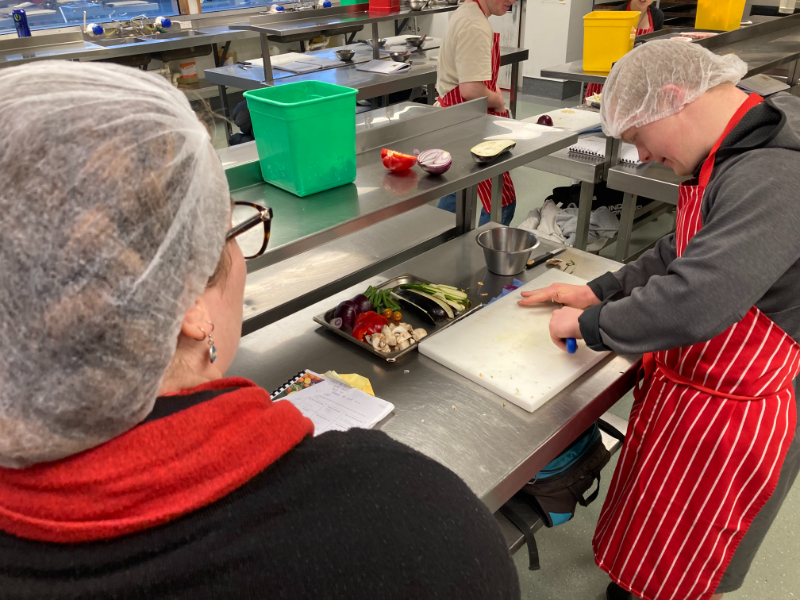 Learning advisor Lydia Loretz is also alongside Willems in class to offer any course work support and help ensure theory elements are submitted using video and photography. "To be honest, I think I get more nervous than Luka," she said of the practical assessments. "Making pizza with gluten-free flour was tricky last week because it was so sticky, so Luka did the assessment with normal flour like everyone else. He aced it - but unfortunately, he couldn't eat it!"
The next class saw Willems carefully prepping a medley of vegetables to be cooked over a hot grill. But it's his swimming individual medley (IM) which is about to become his focus.
He's off to Vichy, France to compete for New Zealand in no less than eight events at the Virtus Global Games in the II-2 category (for athletes with significant Intellectual Impairment – including Trisomy 21/Down Syndrome) making him the first New Zealander ever to compete in this category. It's his second Virtus games.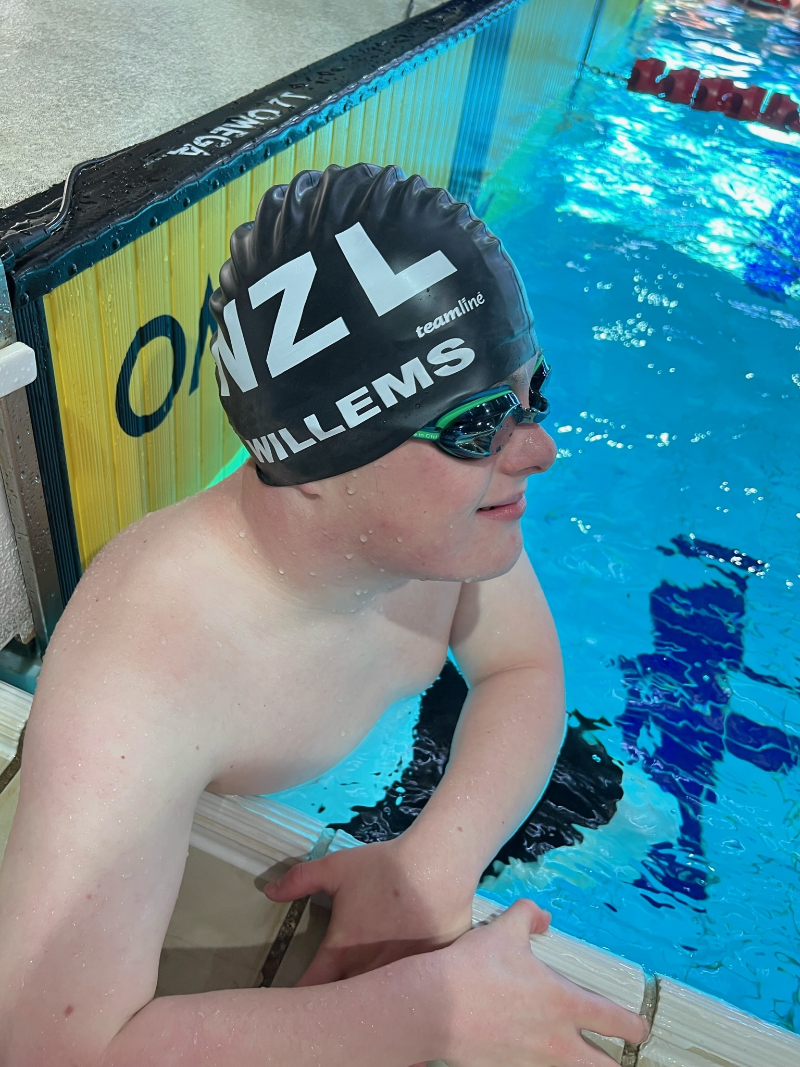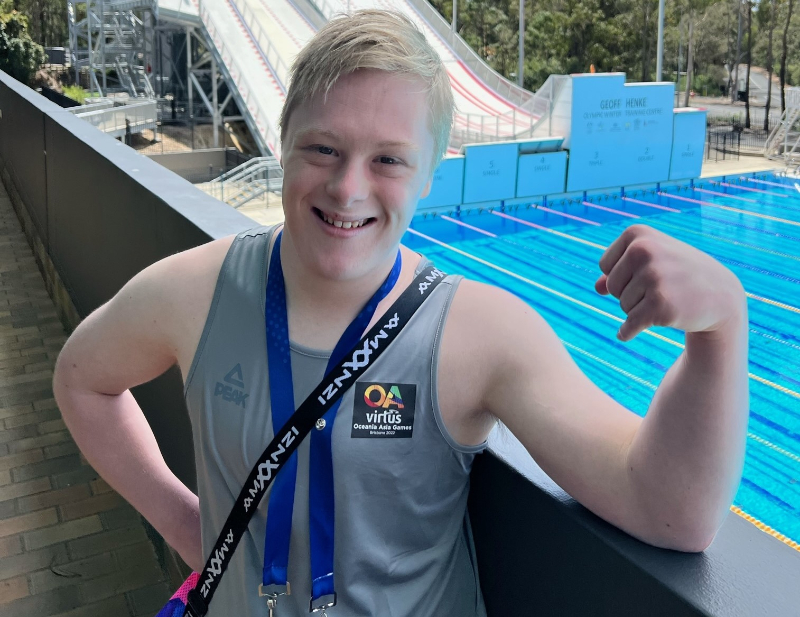 Last year's event in Australia saw him win his first medal for New Zealand – a bronze in the 100-metre freestyle. Willems qualified by notching up eight Oceania records at the World Down Syndrome Champs in Portugal earlier in the year. He'll certainly be one to watch. Virtus Global Games 2023 "My strength is doing the IM because I can do all the turns and all the strokes. I like the challenge," he said.
It all started with learning to be safe around water and trying to keep fit and healthy.
Willems soon found swimming fun and "really liked having muscles." When his talent was spotted at an event four years ago, he started to get some serious coaching. Now he's in the pool five times a week.
"Swimming is really exciting. When I dive in it gives me energy and I feel awake," he said. "My mum, my dad and my sister and my coach have all really helped me – to train more, work on my tumble turns and at my events."
While eight events at the Virtus Games is a phenomenal workload, Willems is clearly used to being busy - juggling his study and part-time job with his vlogging and swim training.
A future goal is to have his own TV show (like his cooking heroes Gordon Ramsay and Jamie Oliver) who he says are "amazing and have so many recipes".
Whatever he turns his heart and mind to, this talented Ara student looks sure to continue to make a splash wherever he goes.
Catch the livestream here as Luka Willems races every day from 4 – 7 June 2023.