Ara | Te Pūkenga celebrates recognition for former leader
Wide congratulations offered to former Ara Institute of Canterbury Chief Executive Tony Gray on his MNZM.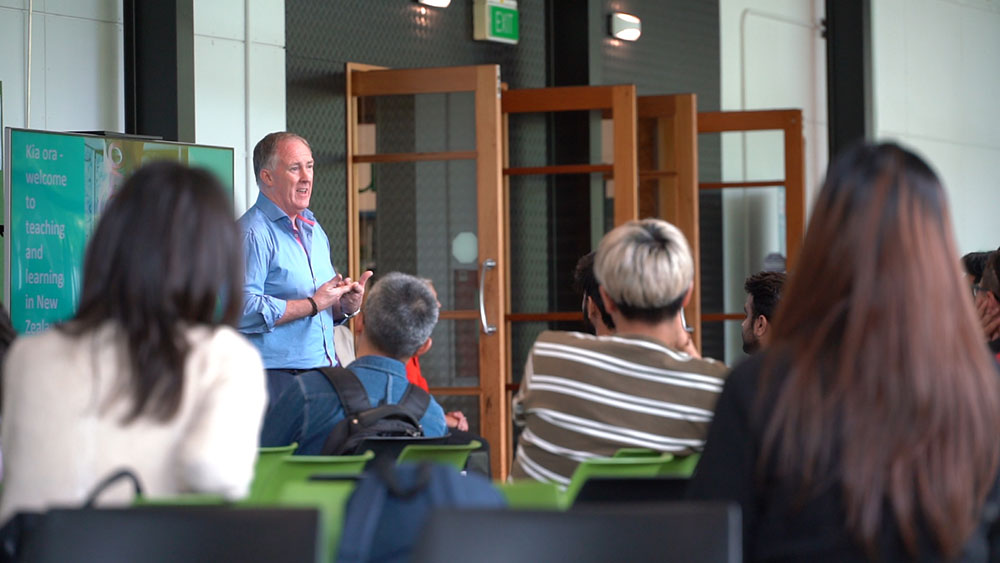 Tony Gray speaking on campus in 2021
A vast contribution to the education sector in a career spanning 37 years both here and in the United Kingdom has seen Tony Gray appointed a Member of The New Zealand Order of Merit.
His focus was on vocational education after migrating to New Zealand in 2003, with his time at Ara between 2017 and 2021 his most recent role in the sector. He left to take up his current role as Chief Executive of Nelson Tasman Hospice Trust.
Ara |Te Pūkenga General Manager Darren Mitchell, who took over stewardship of the institute following Gray's tenure, said his reputation came before him.
"Tony came to us from Nelson Marlborough Institute of Technology (NMIT) which he'd transformed into one of the best performing tertiary institutions in the country," Mitchell recalls.
"Under his leadership, NMIT became the foremost educator for regional primary industries. He helped to establish INNOVATE, a regional entrepreneur activator that supports, nurtures and grows businesses and people from the region."
Mitchell says those instincts and drive continued to make an impact when he ventured south to Ara.
"We were blessed to have Tony as our CEO for the time that we did. As with NMIT, he left Ara in an exceptionally strong position. While here, he led the establishment of Te Ohaka, our Centre for Growth and Innovation and grew our involvement in the Te Papa Hauora Health Precinct, a collaboration with Te Whatu Ora Waitaha, University of Canterbury, University of Otago and Ngāi Tahu," Mitchell said.
"He was also Chair of the Tertiary Accord of New Zealand, which worked towards establishing a shared online learning platform across the alliance members."
Ara's former Board Chair Therese Arseneau described the honour as "wonderful and most deserved".
"On arrival at Ara, Tony's immediate focus was setting a clear, compelling new strategic roadmap, with the learner at the centre and his objective to transform lives through education and achieve better outcomes for our communities never wavered," she said.
"Tony's foresight meant Ara was already on the road of transformation and in a strong position ahead of RoVE – and his energy and positivity was infectious. He took great care of his colleagues, worked tirelessly to transform Ara's organisational culture, and introduced improved health, safety and wellbeing practices."
Arseneau also noted that Gray's active engagement across the broader education network, particularly in international education and through TANZ and TANZ e-campus, left a wider legacy.
Ministry of Awesome CEO Marian Johnson worked with Gray as Chief Executive of their respective organisations to bring Ara and the startup and innovation ecosystem together.
"Te Ōhaka has helped propel Ōtautahi forward as the fastest growing startup ecosystem in the world as noted recently on StartupBlink. I have immense respect for Tony's achievements in education and for his innovative mindset which has allowed him to foster a culture of excellence wherever he has served," Johnson said.
Te Papa Hauora Independent Chair Peter Townsend noted that Gray's "collaborative leadership" was instrumental to the idea of the organisation becoming a reality.
"His commitment, his vision and his ability to think strategically and "outside the square" was fundamental in the creation of a unique model, which facilitates and coordinates research, education and commercial linkages, across the health sector," Townsend said.