Te whare o Ōtautahi
Ōtautahi House
Situated right next door to our City campus, Otautahi House offers rooms for 192 students in modern, attractive apartments.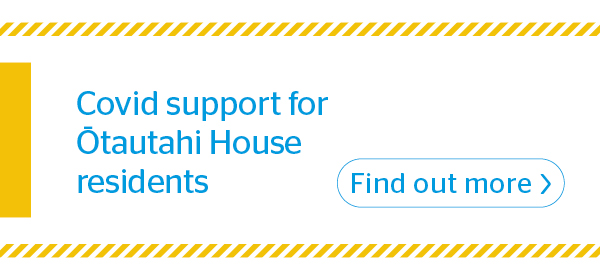 The Ōtautahi House(O-House) student accommodation facility is operated by Ara Institute of Canterbury, located centrally on the corner of St Asaph and Madras Streets (Christchurch). The accommodation comprises five blocks in four purpose built buildings –two built in 1995, and three opened in January 2017. In total, the facility has 36 flats with a maximum capacity of 192resident-students.
The Otautahi Education Development Trust (OEDT) was established as an independent charitable trust in 1984 with the aim of promoting and supporting the applied vocational, educational and research activities of Ara Institute of Canterbury and owns the land and buildings of the Otautahi House complex.
Otautahi House is a great place to stay while you're studying at Ara. It's close to amenities such as large supermarkets, a chemist and public transport and it's only a ten minute walk to Hagley Park.
Staying at Ōtautahi House allows you to flat share with a group of students from around New Zealand and the world, make new friends and share new experiences.
Apartments are attractive and comfortable with modern facilities. There are a total of 36 secure apartments, each offering single bedrooms, a lounge, kitchen, showers and toilets.
You have your own room which is furnished with a king single bed, desk, chair, wardrobe, mirror and drawers.
The communal kitchens have a fridge/freezer, microwave, toaster, electric jug and stove. Bathroom amenities consist of two showers, two vanity units and two toilets and there are coin operated laundry facilities on the 2nd and 3rd floors of blocks A & B.
You are responsible for keeping your own room and flat tidy and clean. Bathrooms are cleaned every day.
Wi-Fi is included in all blocks.
A Student Advisor is available to provide support and pastoral care while you're living at Otautahi House.
Ōtautahi House has house rules based on consideration and respect for others to allow it to function effectively and to ensure your academic success and enjoyment. This includes a no smoking rule. Just as smoking is not permitted on Ara campuses, smoking is also not permitted in the apartments or on the grounds of Ōtautahi House.
View the 2024 House Rules for Otautahi house (PDF 0.1MB)
Ara has a duty of pastoral care to all of our learners, including specific requirements for learners in our Student Residence under the Education (Pastoral Care of Domestic Tertiary Students) Interim Code of Practice 2019. To find out more about the code of practice go to: https://www.nzqa.govt.nz/providers-partners/domestic-code-of-practice/
Support and emergency contacts
Ōtautahi House has a dedicated team onsite at Ōtautahi House to support the resident community and the smooth running of the residential facility.
The team is made up of a Live in Manager, Community Development Coordinator, Administrator, Kaitiaki Ākonga (evening residential support staff), and emergency on-call staff.
The team are supported by Senior Management within the Ākonga Support Division.
It is also closely supported by other Ara-Te Pūkenga services including:
The Health centre (Medical Services; Social work; and free Counselling services)
Student support
Academic support
Disability support
Facilities management (Security/ Cleaning/ Maintenance)
In the event of emergency – contact Security 24/7 +64 27 540 8076
Payment options
If accepted, a bond must be paid to confirm your room booking. If you are accepted into the accommodation but are subsequently not accepted into the programme of study you have applied for, the bond and administration fee will be refunded provided notice is given by the withdrawal date deadline. If you choose not to study with Ara your bond will be refunded, less the administration fee.
There are five options available for domestic students to pay rent at Ōtautahi House:
Pay the full amount at the start of your studies by direct payment
Pay half of the fees at the start of your studies and the other half in June/July
Pay quarter of the fees at the start of each term (a payment schedule will be provided)
Fortnightly automatic payments (this will require a guarantor and a payment schedule will be provided).
Weekly automatic payments (this will require a guarantor and a payment schedule will be provided).
International students are required to pay the full amount by direct payment before arriving.
Holiday periods and work experience time are charged. Your accommodation contract at Ara is for a 48-week contract, irrespective of the length of course of study.
Social activities are arranged throughout the year, such as barbecues, pizza nights, a quiz competition and an end of year function. An activities fee covers the cost of these events.
There is very limited onsite parking and a ballot will be held. You will be notified if you are successful in the ballot for a park.
2024 Fees
Domestic and International Fees
Deposit (bond): $480.00
Admin fee: $300.00
Activity fee: $280.00
Carpark fee: $30.00 per week
Residential fee p/a: $11,520.00
Residential fee average per week: $240.00
All fees are in New Zealand Dollars.
All fees are subject to change.
Entry requirements
Otautahi House residents must be aged between 18 and 25 years of age.
Applications can be made all year round. Preference will be given to those who apply before 31 October and students studying full time at Ara..
Apply Now
As rooms are limited, you should not wait until you are accepted onto a course before applying to live at Ōtautahi House. You will be notified in October and November whether your application has been successful or not. Students seeking accommodation during the year should enquire as there may be vacancies.
Contact details
Phone 03 940 8238
Email accommodation@ara.ac.nz
24/7 Security PH: +64 27 540 8076
Location
Otautahi House
279 St Asaph St
CBD
Christchurch 8011
Apply Now