Zoe Liu graduated from university in China with a degree in Japanese before moving to New Zealand.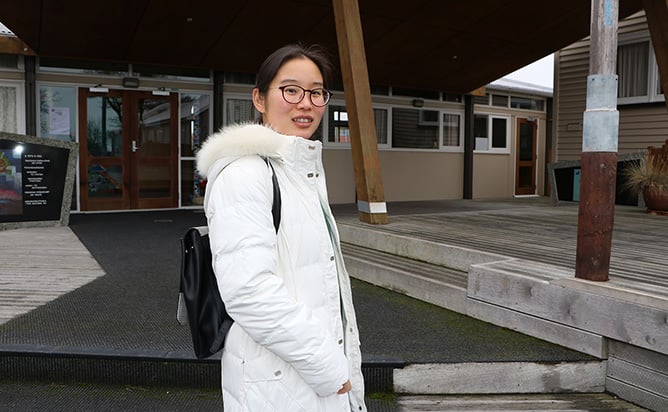 She fell in love with New Zealand and the way of life here, but after four years she still struggled to find a job she enjoyed. "So I decided to start everything again and my first step was education," she says.
She decided to study health science and although she was accepted at Otago University she was reluctant to move away from Timaru. "I love this community and I have a partner here so I wasn't keen to move to Dunedin." Fortunately, the solution came when Zoe met a nurse who told her she could study nursing at Ara in Timaru.
However, there was a stumbling block. "I didn't have any background in science, so it was suggested to me that I could do a bridging course to prepare myself for studying nursing the following year. So that's what I did."
Ara's Certificate in Study and Career Preparation, which comes in several subject options including health, is designed to equip students with the academic skills, confidence and entry requirements they need for higher-level study. It turned out to be exactly what Zoe needed.
"The course was amazing," Zoe says. "As a mature student, as well as an international person, I was a bit worried to begin with but I had great tutors who were really patient with all my questions. I learned a lot about the human body, my English improved and I became more confident in myself and in my decisions. Now I'm fully ready for my next step into nursing."
During the course, Zoe discovered that the learning approach at Ara is quite different to what she'd experienced at university in China. "Back home, the teachers want you to learn so-called 'proper' answers whereas at Ara the tutors encourage us to have a view on things, and to ask questions. They always say there are no dumb questions, and I felt great about that, especially as it was a new area for me and English isn't my first language. By asking questions and looking for answers, I felt more engaged with my subjects."
Zoe's tutors encouraged her and her classmates to share personal stories that related to the topics they were learning about. "By doing that, we didn't just build a bridge between class and real life, we also got to know each other better. This created a very relaxing atmosphere in class and made studying more efficient. It also meant that I enjoyed study, like I never had before."
Zoe says that with all the knowledge and study skills she's developed during her bridging course, she's sure she'll do well when she starts her nursing degree. "I feel really great about it."