Three cooks in Ara's kitchen take out Prime Minister awards
"I can't believe we had three in one class," proud tutor says.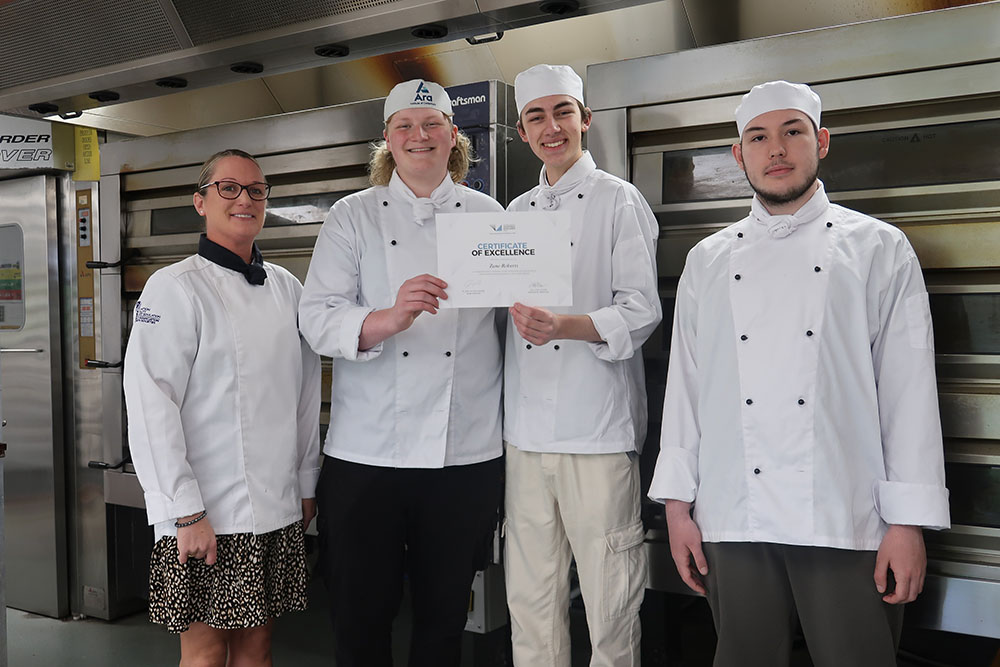 Tutor Arnya Watson with (left to right) Zane Roberts, Adam Barker and Tyler Spatcher-Harrison
Ara-Te Pūkenga's Department of Hospitality, Business and Service Industries is celebrating not one, but three dual-enrolees who have scooped prestigious Prime Minister's awards for high-schoolers in vocational study.
The trio have juggled school this year along with two days a week completing Cookery Level Three at Ara, gaining valuable skills, life-long friends as well as well as 60 NCEA credits.
Tutor Arnya Watson says the $2000 Prime Ministers Vocational Excellence (PMVE) Award is a wonderful bonus for these students who have gone above and beyond.
"They're my high achievers. They've worked hard out of class to practice and do extra competitions. Anything that was available to do - they pushed themselves," she says. "I still can't believe we had three in one class though!"
With many of her students managing study along with extra-curricular commitments and part-time work, Watson says a flexible approach and 'keeping parents in the loop' is essential to the success of the course.
"At Level Four and beyond students are obviously far more independent but, in this setting, we make sure we include parents at things like events and market days so they can get on board and support the learning too," Watson says.
Most of her class of 2022 are planning to come back to Ara, which she says demonstrates how the supportive approach to learning gives students a firm pathway to staying in education. And because the Level Three course is managed through school, there's no impact on their fees-free first year of tertiary study.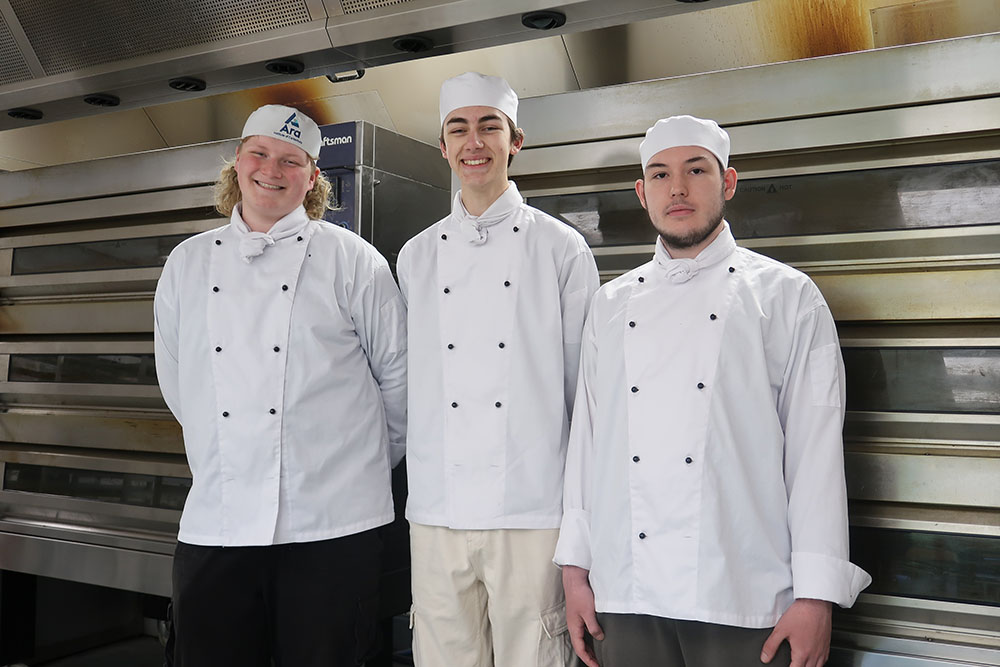 Shirley Boys High's Zane Roberts, Lincoln High's Adam Barker and Hillmorton High's Tyler Spatcher-Harrison are all returning to Ara next year.
All three PMVE award winners are keen to roll up their sleeves for more.
Shirley Boys High's Zane Roberts, who wanted to get beyond washing dishes in a restaurant and work toward becoming a chef, says his plans are set for next year.
"I'm going to do Level Four in the workplace," he says. "I'll go to work, and they'll teach me everything but every so often I'll get to come back to Ara to do assessments which is cool. I'll get paid to learn so I'm happy!"
Lincoln High PMVE recipient Adam Barker is planning on spending his money either on a set of knives or his further education ahead at Ara.
"I'm glad I did the course. If you aren't sure what you want to do there's no harm in doing it and I was keen for the credits," he says.
Tyler Spatcher-Harrison, from Hillmorton High School who found his love of cooking through his dad says he's glad he grabbed the chance to do the Level Three course.
"New stuff like knife skills and learning about different food has been great. I'm doing Level Four next year and my award will help pay for Level Five after that," he says.
Watson says it's rewarding helping these students find where their future lies.
"They get a lot out of their experience as they seek work. Instead of having to be shown everything they've already got skills - they know about clean workspaces and food safety, so it gives them a head start."