Ground-breaking study in Pa
sifika
performance
breaks new ground for family
The achievements of

Afamasaga Feleti Poepoe

Pesefea

were celebrated with 'tears

,

hugs and joy

' at the recent Ara-

Te

Pūkenga

Spring Graduation.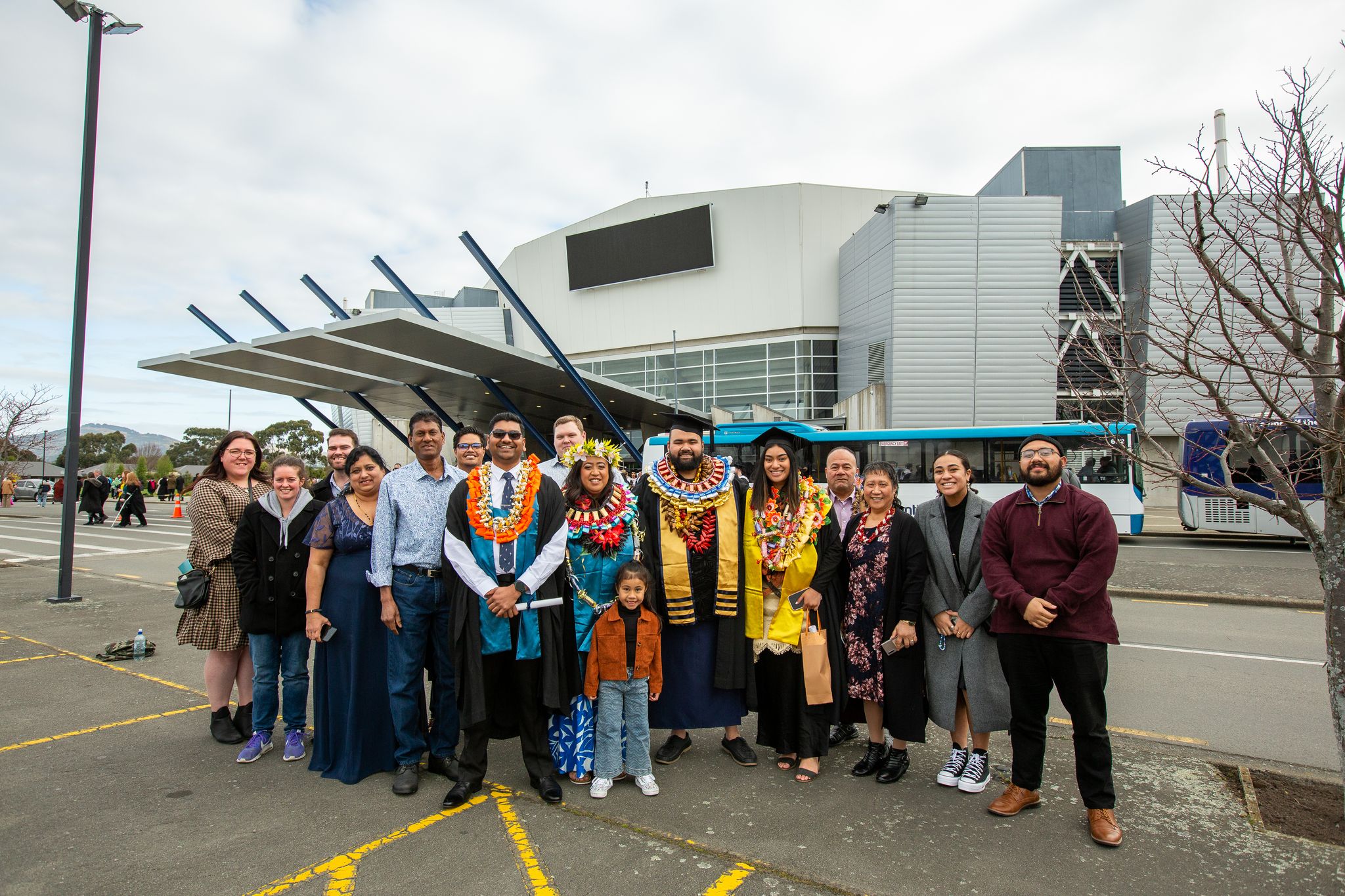 The Pesefea family and supporters gather around Feleti at Spring Graduation
Using original songs and cultural practices to depict the experience of young Samoans in Ōtautahi earned Afamasaga Feleti Poepoe Pesefea a Master of Creative Practice for his 'ground-breaking' research.
For his family, seeing him cross the stage at Ara -Te Pūkenga's Spring Graduation was ground-breaking too.
"This type of achievement is a first for our family," brother Afamasaga Ulimasao Pesefea says remembering their joy and happiness in the moment and the prayers for him along the way.
"Things that people didn't see through his journey was the many late nights he spent reading and critiquing whilst managing his other commitments to his church, community and his full-time job as a teacher and tutor," he says with pride.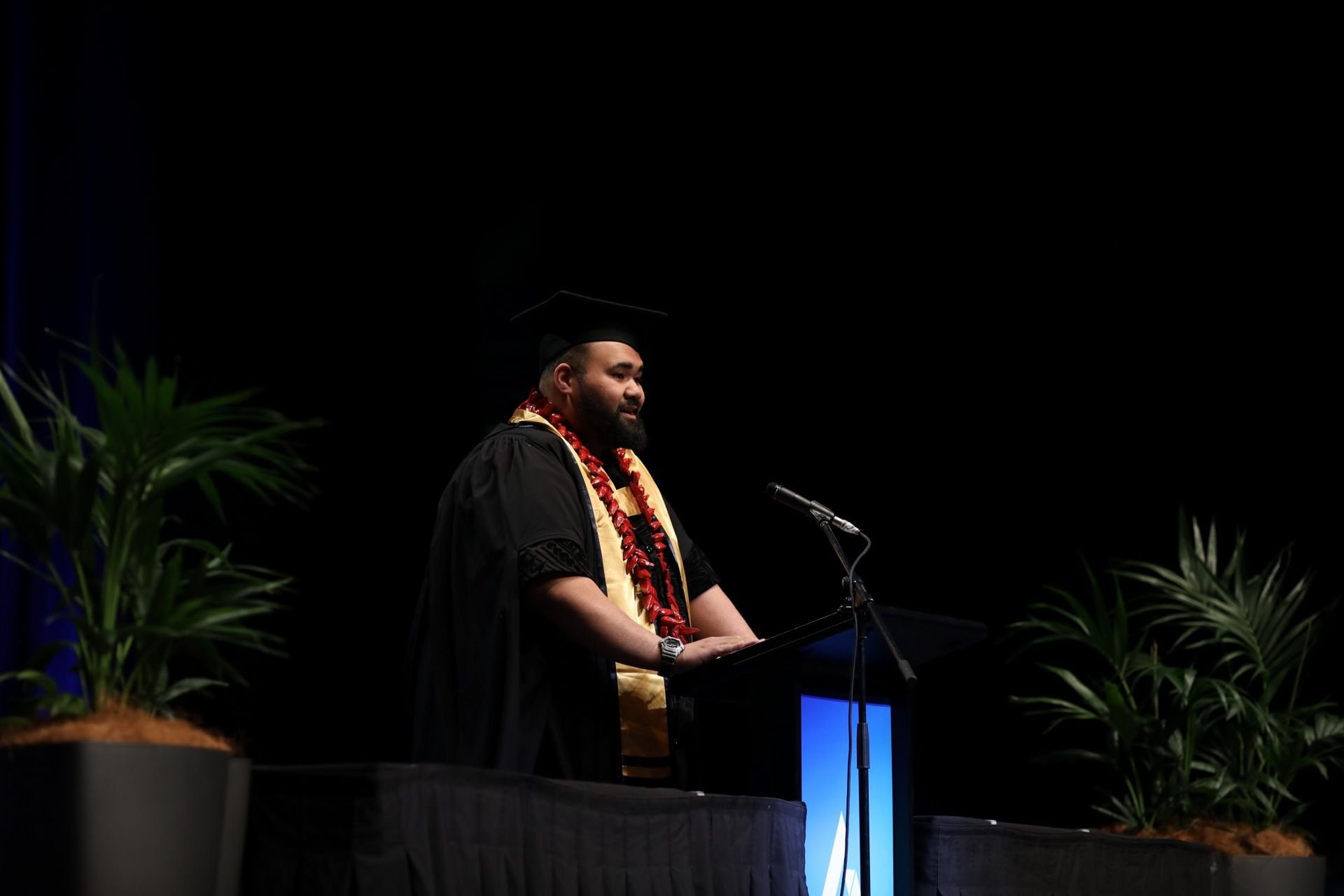 Feleti Pesefea was an inspiring guest speaker at Spring Graduation
Earlier addressing the Christchurch Arena audience as guest student speaker, Pesefea described his learning pathway from plumbing, drain laying and gas fitting to music to post graduate study, simply as a series of steps supported by that love.
"I have had what we would call, a good fruit salad mix," he told the large audience with a smile.
"My pathway to study didn't start how many journeys would have, but it certainly finished just how my parents dreamed and sacrificed for," he said.
His advanced study in the field of Pasifika Performance – supported by the Ara Foundation drew strength from his family as a first generation Samoan New Zealander, he says. "They are the biggest motivator for me and are at the forefront of what I have been able to do. I'd put their names on the qualifications if I could."
The qualifications are certainly significant.
Pesefea's Master of Creative Practice study built on his Bachelor of Media Arts Honours which involved working with a group of young Samoans in the protocols and practice of Siva Samoa to tell the story of the peaceful Mau movement for independence.
Heralded by his supervisor Tony McCafferty, his Master's work saw him create an ensemble performance relating the experience of young Samoans in Ōtautahi.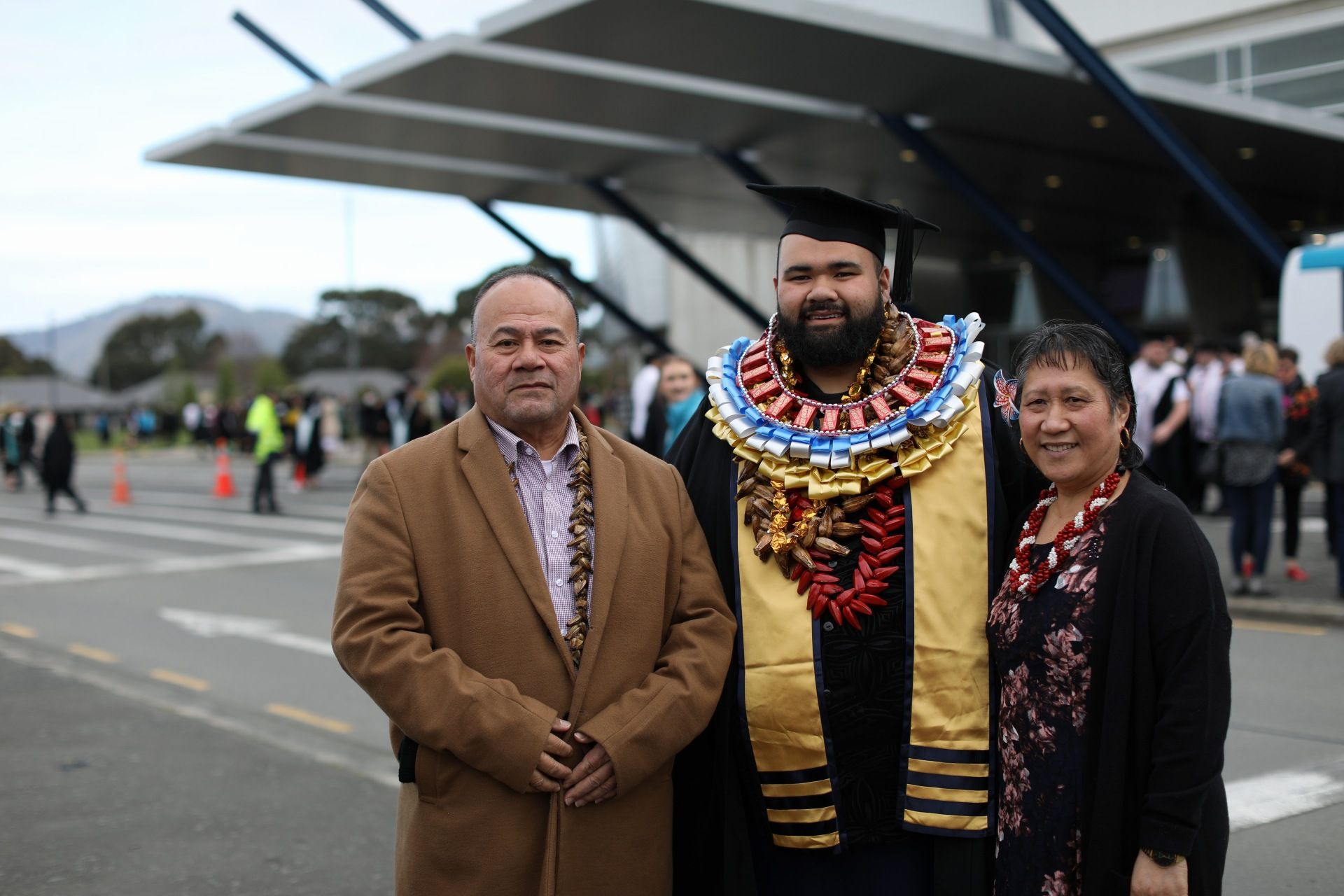 Feleti expressed thanks for the prayers and support of his parents
"It told a contemporary story set in Aotearoa in the traditional cultural forms of Samoan performance: in traditional attire, using song, movement, and music to explore and express the cultural identity of young Samoans in relation to their heritage," McCafferty says.
"Feleti and his team not only wrote and performed the music, but the project also involved training young performers in cultural protocols, song and movement."
He says the performance inspired the performers and audience alike to embrace and celebrate their culture in the twenty first century. 
"He is a real credit to the Samoan community and to the wider community of Christchurch and Aotearoa New Zealand," McCafferty says.
Feleti also wanted to acknowledge his "Ara family," particularly McCafferty.
"His love and understanding of culture helped me to visualise and achieve things and allow me to bring my cultural knowledge to my learning," he says.
"A lot of our knowledge comes through passing information through music and dance. I enjoyed being able to share Pasifika perspective and knowledge to the academic scene at Ara."
Pesefea's family also enjoyed seeing that relationship at graduation.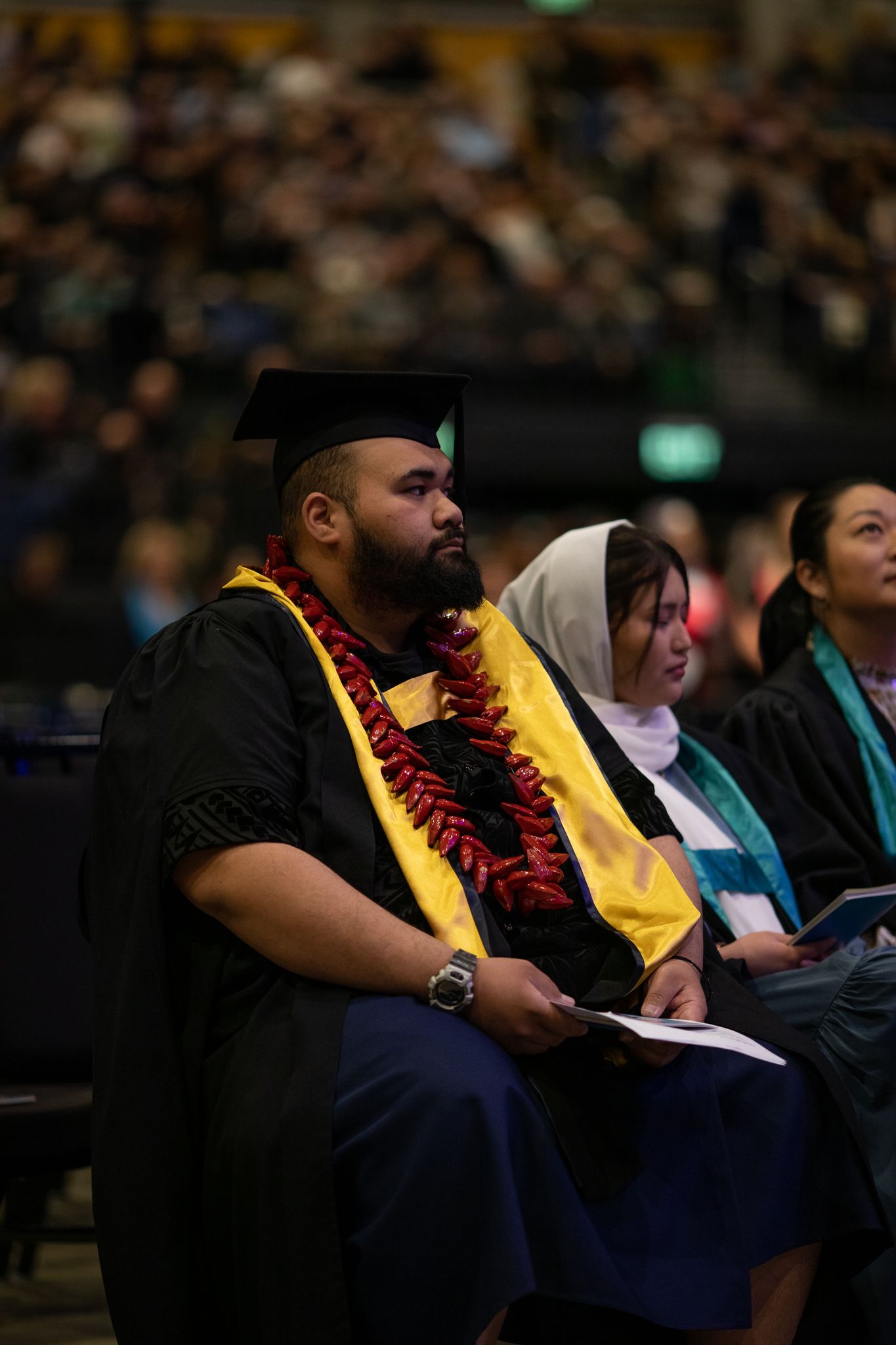 Feleti waiting to be awarded his Master of Creative Practice
"It was a blessing to witness the connection he has to Ara, the staff and the students," Afamasaga Ulimasao Pesefea says.
"To hear him speak on things we all can relate to like "taking the first step" shows his love for the place that got him to where he is."
Alongside his Master's, Pesefea studied for his secondary school teaching and learning diploma at the University of Canterbury and is now teaching music at Papanui High school as well as second year Music Arts students at Ara.
"It is great to be able to teach and encourage young people to share their love of music. I love to encourage others and remind them that every space deserves its moment," he says.
His legacy at Ara-Te Pūkenga also lies in the Pacific Island Students of Ara (PISA) club of which he was a founder.
His words of advice for fellow students graduating are to be fearless in following their own next steps.
"Be thankful, fearless, and relentless in pursuit of your dreams. Don't stop at Ara - keep going forward to where your passion lies," he says.