On a working holiday in 2015, Joanne Lee fell in love with New Zealand – an experience that eventually led her to study here.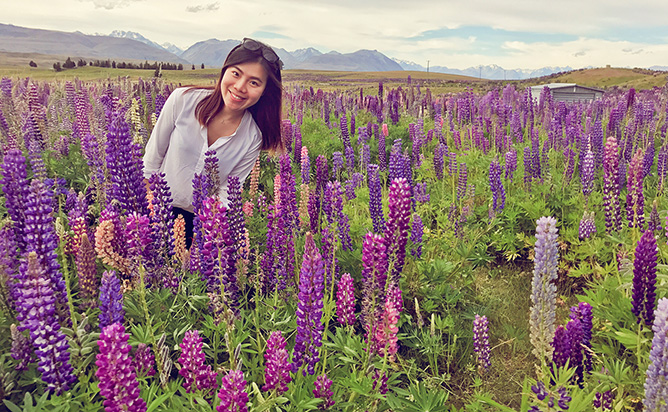 "New Zealand is full of kind and warm-hearted people, and it has an incredible landscape," she says. Before coming here, Joanna had worked for a multinational hotel company in China for five years. She decided that overseas work experience would be a great bonus when applying for head office or regional office positions within the company.
Her decision to study here was also strategic. "For me, studying overseas is not only a great opportunity to improve my knowledge-base and skill sets within my profession but also to broaden my social network – so I thought, why not New Zealand?"
Joanne chose to study the Graduate Diploma in Sales and Marketing at Ara, where she discovered the teaching and learning styles were very different to what she was used to in China - in a good way.
"I really enjoyed the teaching style at Ara. Students are encouraged to learn independently and proactively, and to express their opinions freely in class. International students may need more time to adapt to the study mode here in the beginning, but no worries, the learning support and student support services are very useful. They provide tutorials, mentoring and study tips if you need help. Don't be shy to ask questions and ask for help."
Like the majority of programmes at Ara, Joanne's graduate diploma programme included real-world projects. For one project, she and her classmates worked in pairs to conduct a strategic plan for a start-up vegan food company in Christchurch, which they then presented to their tutors and the owners of the business.
"The presentation was the most challenging but most helpful part of the project for me. It improved my presentation skills and helped me gain the confidence to speak in public."
Joanne is currently working as a sales co-ordinator for the InterContinental Hotels Group in Wellington. "I'm planning to work in New Zealand for a few years to gain more international experience. It will help me with opportunities in other countries, or back in China in the future."
Her advice to international students coming to Ara is to get local experience as early as possible. "You should start to gain work experience while you're studying and not wait until you've completed your degree. And take the internship opportunities related to your courses, no matter how busy your study life is!"