Emma Leonard's passion for Japanese language stems right back to primary school. "My best friend was Japanese and she taught me a lot about the language and culture which really fostered my curiosity."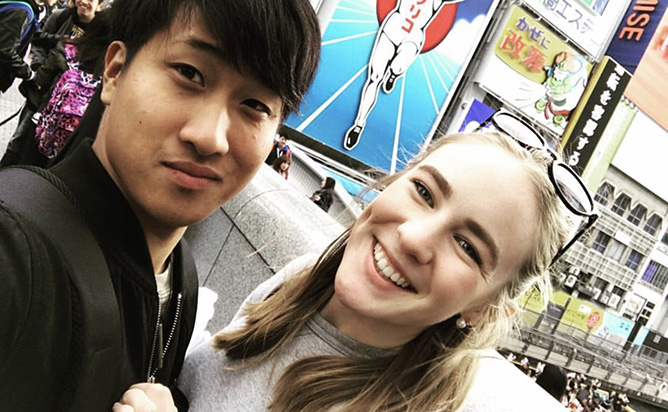 Emma admits her primary interest was the pop culture side of things. "But I think I just loved the idea of being able to communicate with someone in another language and for me, studying Japanese really tied those two interests together."
Straight from high school, Emma enrolled to study the Bachelor of Language (Japanese) at Ara. She says she chose Ara because it was a far more intensive Japanese degree than other tertiary options.
"Where most other universities just had general Japanese classes, Ara's Japanese degree is divided into multiple classes like translation, interpretation, grammar and general culture classes." Emma says this approach helped her improve her Japanese far more than any other option would have.
She also liked the small classes at Ara. "Compared to the large class sizes of 30+ students at bigger universities, the small classes at Ara felt very much one-to-one which made me feel more comfortable and cared for overall."
Much of that sense of being cared for came from her tutors. "The Japanese degree is demanding but the tutors are really supportive and helped me cope. They were able to answer all my questions and I really felt they viewed me as an individual, not just another student."
Emma says her tutors were also really upbeat which made the classes a lot more fun. "One day we'd be learning through a game, the next day we'd have a debate and the day after that we'd be reading long articles in Japanese – it wasn't just reading from a book all day, it was much more hands-on."
When it comes to highlights, Emma says hers were an exchange to Yokohama National University and the internship she did in her third year. "I really appreciate how it gave me real-life experience to understand how I'd use my Japanese in the workplace."
Now having graduated, Emma is working as a sales representative for Nippon Food Supplies in Brisbane. "It's quite a demanding job but it's very rewarding. I drive all over Queensland and see some amazing places and talk to some really cool clients. The degree gave me a very strong cultural understanding which really helps me in my workplace because virtually everyone there is Japanese."
Emma's dream is to open a Japanese-speaking hotel or backpackers in New Zealand with her Japanese partner. She's also keen to set up a small tour guide business to show Japanese tourists around New Zealand.